We often hear from mothers in search of bedding for their sons. At all ages, it seems there's quite a need for attractive bedding that "works" in a boy's room and isn't littered with branded superheroes or licensed products. Isn't that just too much? Boys want something playful, even if their mothers aren't keen on turning their bedroom into a commercial. What to do?
In this post, we highlight a few of our favourite bedding choices in rooms for boys from toddler to preschool to school age. During these years, their interests might definitely be superheroes, but yours probably are not. Here are a few ways that design-conscience mums have used our bedding to help steer their son's superhero enthusiasm in another direction, without squelching his need to express his heroic traits.
Young Max's mum Melinda, whom you can follow on IG: @melinda.max, chose our Geometric Web cotton sateen duvet cover and pillowcase for her little boy's "big boy" bed, combining it with our linen-cotton blend Tiny Triangle pillowcase and a cotton jersey fitted sheet in one of our early patterns, Look at Me (visible above). Now, two years later, these patterns still work well together in his monochrome room, as evident in the featured photo of this post.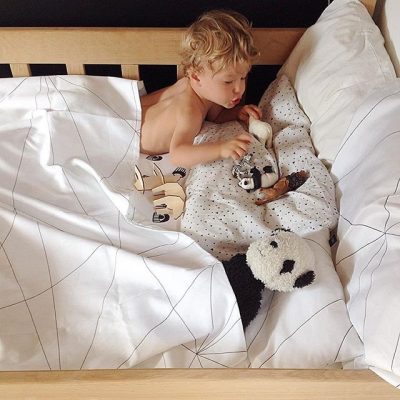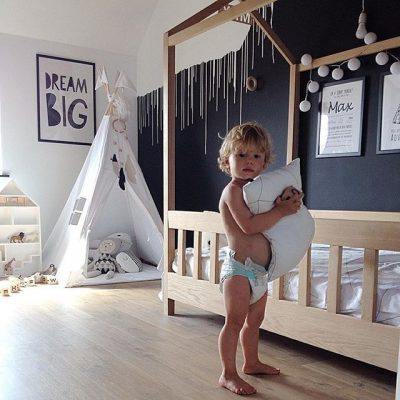 Sometimes mothers are looking for a stronger accent. Using a bolder pattern as the pillowcase can add just enough "umph", as in the room of Australian interior blogger Marissa (you'll find her on IG at
@stylecreateinspire
). She also chose our
Geometric Web
Bedding for her son's duvet cover, accenting it with a
Zebra Pillowcase
. Here we see how Geometric Web is a versatile pattern that gives a sense of space and rhythm without dictating the look of the room. This cotton sateen pattern also becomes increasingly softer with every wash.
Another use of Zebra as an accent is in the boys' room makeover by Ana Negru, whom you can follow at @mothering4myhome. Here, Ana used a combination of Freestyle stripes for the duvet cover, Zebra stripes and Ladybird dots for the pillowcases and Slate Blue for the fitted sheet in the room of her two young school-age boys.
Want something even more daring? Let our Zebra Duvet Cover step into the lead role in your modern monochrome decor, as in the bold graphic setting of Norwegian interior blogger Camilla Athena Manganas (@camillaathena). It makes a memorable statement in the room of a ten-year-old boy who's still interested in comics and superheroes, but now on a more sophisticated, albeit ever playful, level.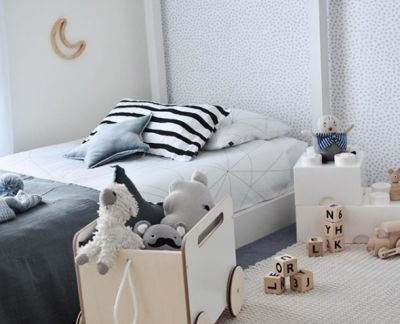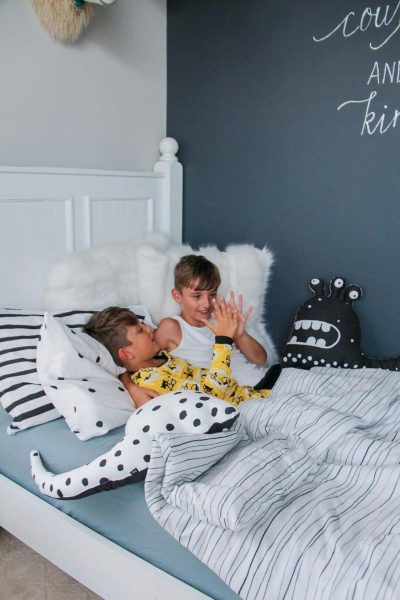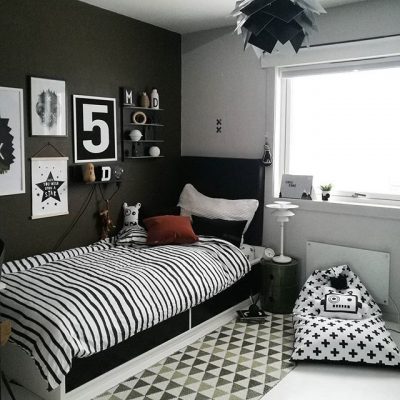 Finally, we visit Dutch interior blogger Carolien Manning's (IG: @carolien_manning, blog: Binnenhuisinspiratie) boys rooms, in which she's chosen our Tiny Triangle duvet cover and pillowcase for her edit, showing that this unisex pattern can adapt to the needs and tastes of a bedroom's owner, in this case, her two very lively boys. Tiny Triangle fits equally well with a variety of looks, whether its cars and animals or geometric diamonds and robots. (For more about our Tiny Triangle pattern see our post here.)