How can the time pass so quickly? I watch her skipping around in the yard, playing with her friends, running in the house to get a drink, then she's out again. Seems like yesterday I was holding her in my arms, swaddling her like a little bundle.
Likewise, her room and play spaces have changed a lot in these years too. Now, we're preparing for school this September. First grade. She's got to have a desk, right? Even if it is just for drawing and colouring, and practising her letters.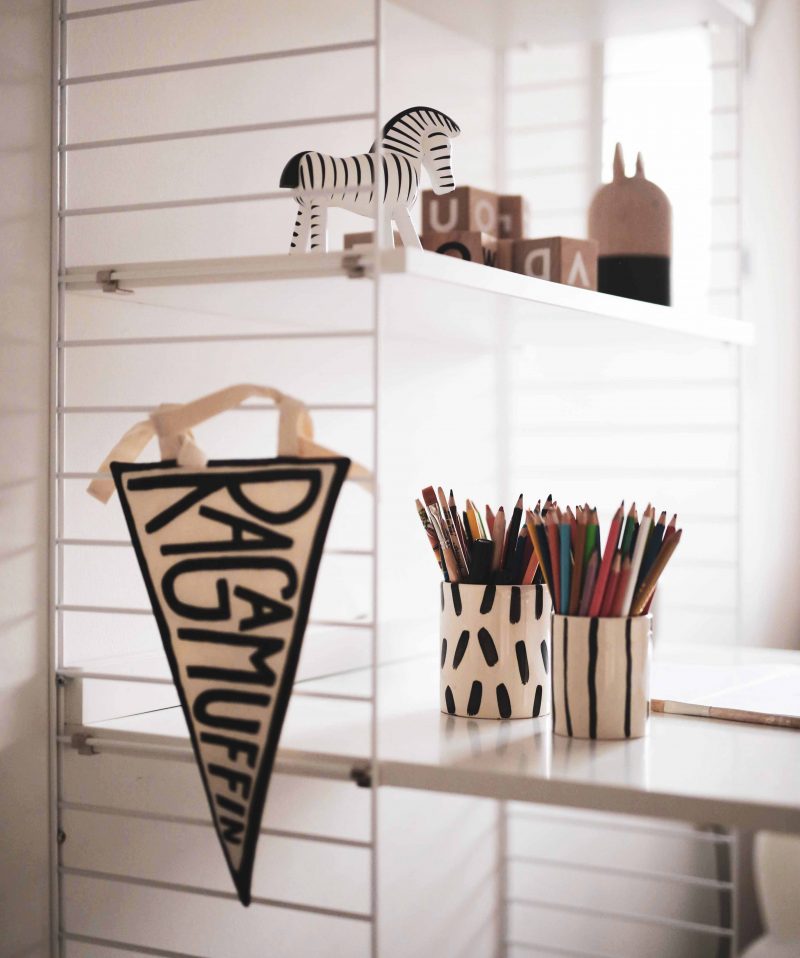 Fortunately, we didn't have to buy a whole new desk or anything. We just added the desktop extension to our String Furniture wall system. Easy-peasy. String Furniture is so versatile and a must for anyone like me, who loves to constantly experiment with new looks and the placement of items in a room. Little by little, I've also been changing out some of her shelf decor. I'm in love with this Ragamuffin pennant from the Oregon, USA, based illustrator and designer Roxy Marj. And the ooh noo ceramic mugs (here in Magnetic Attraction and (an early prototype for our) Freestyle design) make attractive (and monochrome!) pencil holders.
When we bought the
work desk
to add to our String Furniture wall system, we decided to add a
Rex Kralj Mosquito Chair
to complete the look. It's such a classic chair that reminds me of a school room. Or at least the kind I would have liked to have sat on in my school room as a kid. And it comes in white (and black!), which is always a must. Can you believe it was designed in 1953?
You should have seen her last year, her legs really dangled in the air. Now, those little feet of hers are slowly, slowly reaching towards the floor. Well, it's good to have something to grow into sometimes, right?
I can't wait to see how her world will change when she goes to school. How will she write her name? What kind of drawings will she now start to draw?