The ooh noo bedding collection began with our monochrome patterns such as Ladybird, Zebra and Tiny Triangle along with a few "natural" patterns printed on linen such as Starry Night and its sister pattern, Stars in the Morning. But as our lead designer's baby girl got a little older, her daughter's desire for pink became difficult to ignore (despite her mother's attempts to adorn her world in monochrome)!
Thus the colour pink crept its way into our collection – and into our hearts – in two patterns, one of which we share with you in this post.
PATTERN PSYCHOLOGY
Dots are a long time favourite on patterns in fashion, adorning clothing and accessories, as well as in interiors – turning up on upholstery, home textiles and bedding. In mid-20th century, they were perceived as cheerful and optimistic. No doubt, they always convey a sense of bold, eye-catching playfulness, which is also a big part of our brand identity. At the same time, ooh noo designers aren't ones to follow the crowd, when we think of patterns, we always try to refresh them in some way, that is, to create a new rhythm or experience with them.
Patterns give us a satisfying sense of repetition, of knowing what is coming next. At the same time, our brains thrive on change, on the unexpected. These are two qualities of the human psyche that ooh noo tries to engage in its design.
PLEASURE BY ASSOCIATION
Pink Bliss was born out of experimenting with different sized dots. We liked that these dusty pink, slightly lavender-toned oversized dots reminded us of our favourite things, like tasty macaroons. There's a cotton candy feel to them as well, as if walking at the fun fair with a group of friends and eating this light and airy, melt-in-your-mouth tasty sweet treat. Other associations that bedazzled us were pink peonies. Just as feminine and striking are little girls' rosy cheeks holding pink balloons. We contemplated all of these names and associations.
In the end, we decided that the one thing that tied all these objects and the experiences they bring is a sense of bliss. And of course, that is just how we feel when we sleep in this bedding and wake up in the morning: completely enveloped in Pink Bliss.
PINK BLISS BRINGS A SPECIAL FEELING TO ANY ROOM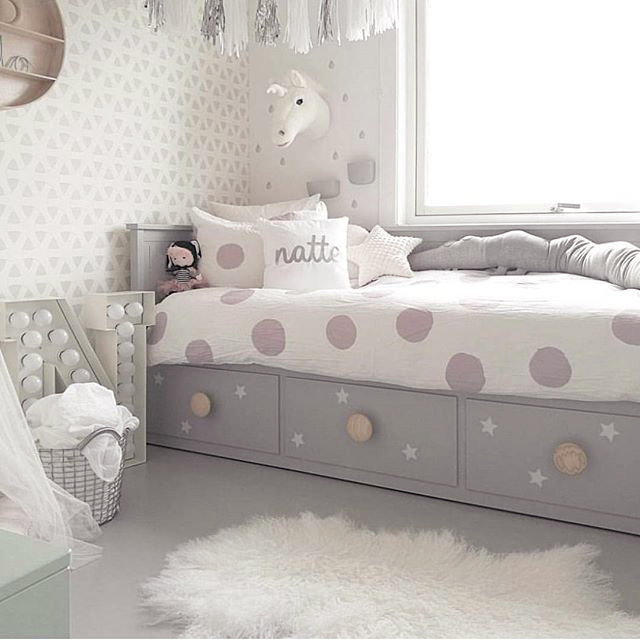 Find fairytale bliss in a girl's room full of stars and unicorns styled by
@camillaathena
with
our single duvet cover
. The muted pink accent brings a subtle touch of femininity to the grey and white.
Then there's the bliss of holding your baby girl's hand as she sleeps soundly. The shade of this pink is gentle without being pastel, and works well in the nursery without being too sweet. And what mother can resist such soft bedding for her baby?
Blissful understated simplicity in the room of @ttsisterparis – in our double-sized duvet cover, a size that's possible because this pattern comes in 100% cotton. Because bliss is always nicer when shared, right? Mr. Polar Bear definitely agrees.
Waking up is always a treat after a night sleeping in this bunny-soft cotton sateen bedding. Especially when the morning sun caresses the bed.